At
, we offer everything you need to go solar. From permitting and paperwork, to industrial installations and 24/7 responsive customer service support throughout the process. Market dynamics have significantly improved in recent years making solar a viable alternative with an attractive return on investment. Allow our energy experts to provide a holistic analysis and implement a renewable energy strategy that will meet your requirements and increase your energy independence.
Professional Site Design and Installation
Superior Energy Performance and Reliability
Return on Investment of 2-4 Years
Rebates Up To 30-80%
Creative funding options for energy efficiency projects including on-bill financing and Property Assessed Clean Energy (PACE).
Renewable Energy Credits (REC's)
Many companies are beginning to focus more on a low carbon future, and renewable energy procurement is playing a big part in achieving these sustainable goals. Energy consumers have multiple options available, either directly sourcing green energy from utility providers, offsetting usage with renewable energy certificates (RECs), or through more strategic, longer-term commitments in the form of virtual assets.
How do Renewable Energy Credits Work?
Renewable energy certificates (also known as renewable energy credits, or RECs) represent the energy generated by renewable energy sources, such as solar or wind power facilities. Buying RECs is not equivalent to buying electricity. Instead, RECs represent the clean energy attributes of renewable electricity.
Electricity enters the grid from many different sources, ranging from wind power and solar to natural gas and nuclear power. Because of this, there is no way to know exactly what energy source your electricity comes from. To solve this problem, you can purchase RECs along with your electricity. RECs are certificates that transfer the "renewable" aspects of renewable energy to the owner. In other words, renewable energy credits, paired with electricity from the grid, are renewable energy that is being generated on your behalf.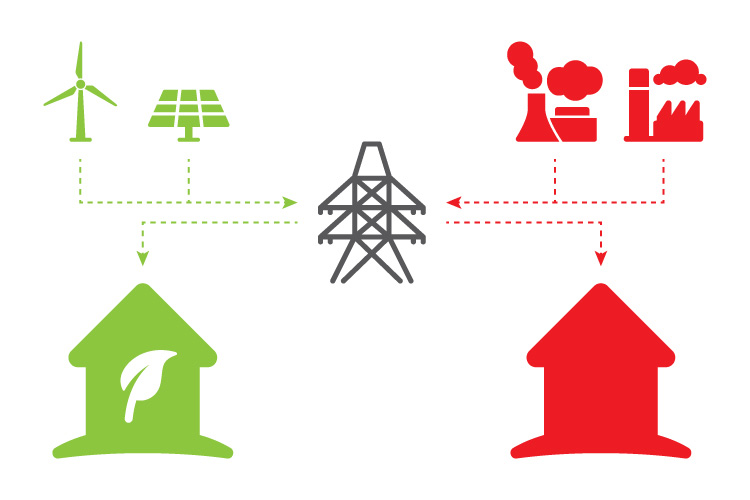 A REC is produced when a renewable energy source generates one megawatt-hour (MWh) of electricity and delivers it to the grid. For example, if a wind power facility produces 5 MWh of electricity, they have 5 credits to either keep or sell. If you or your business buys those credits, you are buying the "renewable" aspect of the electricity from the wind farm, and you can say that 5 MWh of your electricity use came from a renewable source.
A REC that has been sold once cannot be purchased again. All renewable energy credits are uniquely numbered and generally include information such as where they were generated, the type of renewable resource they came from, and a date stamp of generation. The exchange of RECs is tracked and recorded.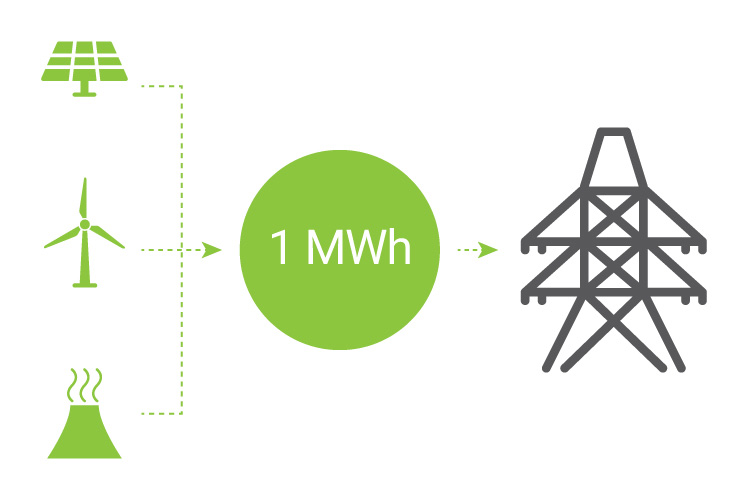 RECs give you certified proof that you are using renewable energy from the grid without having to install solar panels or other renewable energy systems at your home or business. This gives you flexibility, especially if your business is based in multiple places or does not have the infrastructure to install solar panels. With RECs, your business can reduce its carbon footprint.
can help you purchase RECs to support the renewable energy market by providing a demand signal to the market, which in turns encourages more supply of renewable energy. In this way, RECs not only help businesses meet their greenhouse gas emission goals – they also encourage the generation of more renewable energy.
Signal solid support of the renewable energy market
Beneficial if you are unable to install solar panels or other renewable energy sources for your business
Reduces your environmental impact and carbon footprint
Allows you to achieve your environmental and/or organizational values-based goals
Allows you to know where your electricity is coming from
Lets Start a Conversation
Dawn Energy Consulting is a Boutique Energy Consulting Firm Specializing in Energy Procurement and Efficiency Solutions
5706 E. Mockingbird Ln. Ste. 115 Dallas, Texas 75206